CONGRATULATIONS
!
30 days and 30 healthy recipes later, we have made it to December 1!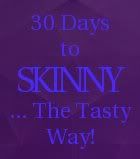 First launched on November 1, and inspired by Gina Homolka and her recipes on
Skinnytaste
, I set out to bring some extra healthy eating into our lives as we embarked on yet another holiday season. Today, I'm here to reveal to you all of the behind the scenes activity of this challenge over the next month - including our favorites, our least favorites, and why this was certainly not the least expensive challenge I've ever embarked on.
Before we get to the dishes that we'll definitely be making again, and the ones we probably won't be, I wanted to cover some of the logisitical aspects of this challenge. I've always liked to planned menus ahead of time - I think it saves money at the grocery store and it definitely saves a lot of time. This challenge allowed me these benefits, but it also added a little bit of stress to the actual dinner making process at home. I made the menu during the last week of October and so I wasn't able to take into account what was on sale during any given week. Additionally, I'm aware that it isn't necessarily realistic to make dinner at home every single night of the month - especially for me this past month. I had friends visit twice - during the first two weekends - and that sort of hindered some of my healthy cooking. This challenge did, however, provide us with a lot of new recipes we will, without a doubt, be having over and over again.
In order to choose our favorite meal, Josh and I sat down with our meal calendar and made some notes. When we were done, it looked a little like it had been attacked by my pen. But, while it looked crazy, there was a definite method to my madness.
First, I went through the calendar and crossed off all of the items that I didn't make (hey, I'm not perfect!). The final tally? 20 out of 30 dishes made. (Just so you know, I feel okay about this.) Then, going through each week's different menu, I bracketed each of our favorites - placing a "J" or an "S" next to the bracket. (Note: To see the full menu we looked at by week, please click over to that week's corresponding post:
1
,
2
,
3
,
4
and
5
). In weeks 1 and 5 we shared the same favorite, but did not for the other 3 weeks. After figuring out our favorites, I asked Josh to narrow it down again from his 5 favorites, to his absolute favorite of the 5, and I did the same with my own. The results?
Hands down, with no question, our favorite dish overall was the
Sesame Encrusted Baked Chicken Tenders
that we made the first night of the challenge on November 1. It was easy to make and beyond delicious. When Josh picked it as his favorite he said that he definitely wanted to have it again soon.
Close behind were week 4's
Asian Grilled Chicken
(Josh's) and week 2's
Skinny Chicken Enchiladas
(mine). Also simple dishes, they both showcase flavors that we love and like to use often. Our other favorites? They include the
Pepper Steak
(week 2),
Asian Flank Skewers
(week 3),
Roasted Acorn Squash and Leek Soup
(week 3) (and see my step by step break down
here
),
Asparagus and Poached Eggs over Pasta
(week 4) and
Pork Chops with Dijon Herb Sauce
(week 5).
When it came time to pick a least favorite, the choice for Josh was a lot easier. He was not a fan of week 1's
Roasted Potatoes with Chicken Sausage and Peppers
. He didn't love the chicken sausage that I used or the mix of the potatoes. He much preferred the
Pasta with Italian Chicken Sausage and Peppers
. His second least favorite was week 3's
Roasted Broccoli with Smashed Garlic
- except that his dislike had nothing to do with the dish itself - which was truly delicious! I planned a group of more garlicky dishes around each other and by the time this dish came along, Josh was tired of the garlic. Frankly, I think Josh would be thrilled if I stopped buying and using garlic altogether. (But I'm sorry babe, I just can't do it!)
I had a lot harder of a time picking my least favorite. I really loved each dish that I made, but if I had to pick one to not make again - it would be the
Pink Lemonade Confetti Cupcakes
. They were good, but just not great. I also made the
Chicken Francese
(for our last meal of the challenge last night) and while the sauce was good, it was too thick and so, (completely not the fault of anything but making my own mistakes) I would probably not make it again without having to alter whatever I did wrong (which I'm pretty sure was using too much flour).
So, there you have it! I'm so glad that I did this challenge, and it was certainly challenging at times - forcing me to slow down and take better inventory of what I'm putting into my body on a daily basis. Of the recipes that I didn't make, I am most looking forward to trying my hand at the
Sante Fe Crock Pot Chicken
,
Chicken Quesadillas
, and
Hash Brown Egg White Nests
.
How did you do with the challenge? Did it help you get on a healthy eating track for the holidays? Or was the entire thing just a bit too much? I know it can be a challenge in itself to simply get dinner on table some nights! And don't worry, the healthy recipes don't end here! I'll still be posting healthy recipes and reviews and of course, sticking with some of our favorite recipes from Gina at
Skinnytaste
. A special thank you to her for allowing me to use her delicious (and delightful!) recipes as a base for this challenge! Make sure you head over to her fantastic website,
Skinnytaste
, and check out all of the incredible recipes that she has to offer!
Thanks again for participating! And don't forget, you can always challenge yourself at any time, in any month! Simply plan a menu, grab a button for your blog, and make sure to keep me updated - I'd love to hear about your progress!