Welcome to week 4 of 30 Days to Skinny... The Tasty Way! Get excited for another week of delicious and healthy food. Before we get to this week's menu (and a recap of last week's), I want to share with you something magical that happened last week. When I made Friday night's red snapper (on Thursday night), not only did it turn out beautifully, but it was so beautiful looking (and smelling) that Josh tried it. He tried it, and then he liked it, and then he went back for more. Seconds. Of fish. And here I thought that I was going to be whipping up some blackened chicken pasta after he tried the snapper. Seriously folks, it was magical. This is why you need to take a moment to try to bring this challenge into your own kitchen. It makes magic happen.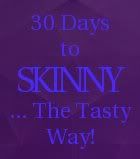 Here was last week's menu (and
week 1
and
week 2
if you want to check them out):
Monday, Nov. 14:
Easiest Pasta and Broccoli
Tuesday, Nov. 15:
Broiled Tilapia with Garlic
Wednesday, Nov. 16:
Asian Flank Steak Skewers
Thursday, Nov. 17:
Roasted Broccoli with Smashed Garlic
Friday, Nov. 18:
Roasted Snapper Filet
Saturday, Nov. 19:
Pork Chops with Mushrooms and Shallots
Sunday, Nov. 20:
Roasted Acorn Squash and Leek Soup
I did pretty well keeping up with recipes this week and I think that the changes I made suited the tastes of both me and Josh. My favorite was the broiled tilapia with garlic, although the soup was a very (
extremely
) close second. Josh's favorite was the steak (no one should be surprised by this) but he did like the snapper and doesn't want it again soon, but will eat it again. This is okay though, because what I learned this week is that snapper is incredibly expensive. And since we're trying to live more frugally than not, we will not be eating such expensive food every week. But I am very glad we tried it and it was delicious.
The only major change I made to any dish (and I wouldn't even call it major) was that I unskewered the Asian flank steak skewers. We're just two people and didn't need to be eating off of skewers. Also, I want to note that I should have looked at the recipes a bit more before I put all of these together as I unknowingly placed a large amount of garlicky recipes together. By the end of the week, Josh requested that I don't put any more garlic into any more dishes. Oops. But really, they were all yummy dishes and I was super happy with every one.
And now, the toughest week of the challenge - with Thanksgiving falling right in the middle. Here is week 4 of the 30 Days to Skinny... The Tasty Way! as inspired by
Skinnytaste's
very own Gina Homolka:
Monday, Nov. 21:
Grilled Rosemary Lamb Chops
Tuesday, Nov. 22:
Asian Grilled Chicken
Wednesday, Nov. 23:
Easy Garden Tomato Sauce
Thursday, Nov. 24:
Sweet Potato Pie
Friday, Nov. 25:
Asparagus and Poached Eggs over Pasta
Saturday, Nov. 26:
Pasta with Italian Chicken Sausage and Peppers
Sunday, Nov. 27:
Pink Lemonade Confetti Cupcakes
Are you as excited as I am for this delicious looking menu? Feel free to head over to
Skinnytaste
yourself and use any of her Thanksgiving recipes to swap for your Thanksgiving dinner on Thursday. I will be doing a feature on last week's Roasted Acorn Squash and Leek Soup later this week and I'd love if you stopped by to check it out! Good luck with week 4!