It's week 3 already? Wait... does that mean... Oh wow, Thanksgiving is next week! How did this happen? I really cannot believe that this month is flying by the way it is. So far, however, it has been a great month - life is wonderful! And that means we're 2 weeks down on our 30 Days to Skinny... The Tasty Way!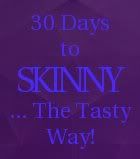 Here was last week's menu (and here's
week 1
if you want to check it out):
Monday, Nov. 7:
Pepper Steak
Tuesday, Nov. 8:
Skinny Chicken Enchiladas
Wednesday, Nov. 9:
Baked Skinny Fries with Garlic Aioli
(& the
Baked Lemon Garlic Tilapia
from Wk 1!)
Thursday, Nov. 10:
Steak and Cheese Sandwiches with Onions and Mushrooms
Friday, Nov. 11:
Chicken Divan, Lightened Up
Saturday, Nov. 12:
Hash Brown Egg White Nests
(& the
Pollo in Potacchio
from Wk 1!)
Sunday, Nov. 13:
Crock Pot Sante Fe Chicken
I'm hoping that everyone else is doing a bit better with this challenge than I am, as I seem to start off with a bang every week, only to slow down by the time the weekend gets here. Last week was especially tricky with my friend Beth here for the weekend - healthy (and home) cooking wasn't exactly a part of our itinerary (although lots of unhealthy and delicious restaurant cooking was - we enjoyed meals at
The Paramount
on Charles Street,
Zocalo
in the Copley area, and
Aquitaine
in the South End). This means that not all of the meals for the week got made, but I think that the fact that I'm replacing at least some of our usual meals with these extra healthy ones and getting into the habit of doing some swaps is better than none. My goal for this week is to stick to the entire original menu (below) and to also finish up last week's.
But before we get to that, I just want to do a quick review of a couple of last week's dishes. Josh's favorite was the pepper steak, even though he thought it needed a bit more flavor. When I was cooking it, he kept telling me how delicious it smelled and then when he ate it, he told me he thought it would be more flavorful. Next time I'll add a bit more spice. Also, it should be noted that I changed out the beef in the recipe for flank steak just because I'm more familiar with it. My favorite, however, was the Baked Lemon Garlic Tilapia that I really made into a Baked Garlic Chicken. I just omitted the lemon juice (because I
may have
discovered just before I went to add it in that I didn't have any) and switched the fish to poultry because it was easier to make one dish than two (Tilapia and Josh are not on friendly terms). I poured the remaining garlic over the broccoli that I served with the chicken and it was amazing. I think that I could eat it every night. Hmm... haha.
I'm super excited about this week's menu as well and I'm looking forward to adding some of the recipes I've missed into the mix. So now, here is week 3's menu of 30 Days to Skinny... The Tasty Way! as inspired by
Skinnytaste
's very own Gina Homolka:
Monday, Nov. 14:
Easiest Pasta and Broccoli
Tuesday, Nov. 15:
Broiled Tilapia wih Garlic
Wednesday, Nov. 16:
Asian Flank Steak Skewers
Thursday, Nov. 17:
Roasted Broccoli with Smashed Garlic
Friday, Nov. 18:
Roasted Snapper Fillet
Saturday, Nov. 19:
Pork Chops with Mushrooms and Shallots
Sunday, Nov. 20:
Roasted Acorn Squash and Leek Soup
I am so excited for the recipes this week and I cannot wait to try snapper for the first time on Friday! And I promise I won't switch that out and use chicken instead (although I may not be able to promise that for tomorrow's dinner - but we'll see). I'm also super excited to make the soup on Sunday as part of my
26 Soups Challenge
. How're you all doing with the challenge? Are you enjoying these new recipes as much as I am? Also, don't forget that Gina is always adding new recipes to
Skinnytaste
and you should head over there to check them all out!